With 490 stores in 18 countries and EU-wide online sales, fashion chain Lindex is anything but a rookie when it comes to omnichannel sales. After having an online presence for over 10 years, Lindex has more experience and greater knowledge of digital retailing than most retailers. Lindex is now on the threshold of the next generation e-commerce solution. With the aim of further developing its leading position within omnichannel retailing, the plan is to launch all-new e-commerce on the market in 2018.
Henrik Sörstedt joined Lindex's digital journey two years ago. Since fall 2017, he has been Director of Customer Experience, a new role within Lindex with responsibility for the brand's digital strategy and channel development which aims to supports Lindex's e-commerce operations.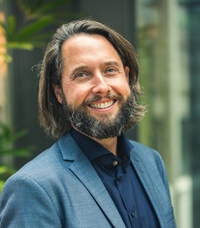 "For me, it's important that we avoid viewing our digital strategy as a technology project and instead allow business needs to dictate. When it comes to e-commerce, from the very start we have had an explicit omnichannel vision with the aim of creating a seamless customer experience, where it is easy for customers to be inspired and to shop wherever they happen to be. Lindex was quick to spot how customer buying behavior is changing and to act accordingly. We are now well advanced when it comes to omnichannel retailing and I know that many of our competitors use us as a benchmark."
The clothing chain's expressed strategy and clear omnichannel investments have also received a number of awards. The chain was named Omnichannel of the Year at both the 2017 Habit Mode event and another major e-commerce sector event. The juries praised Lindex for focusing on creating added value by offering a top class shopping experience whatever the channel, together with the insight that soft values are just as important as technology when it comes to meeting customer expectations.
Taking the step towards tomorrow's omnichannel
Despite these awards, Lindex has now chosen to upgrade its e-commerce solution and replace much of its platform in favor of better performance and new functionality. Sörstedt explains the thinking behind this decision:
"Buying online and via a smartphone is continuing to grow today, while footfall in bricks and mortar stores is falling. It also means that we are encountering entirely new types of competitors, locally and internationally, actors that are fully focused on digital business. These 'pure players' are fleet footed and often well advanced when it comes to e.g. leveraging big data to acquire insights into customer needs and behavior patterns. Our most important competitive advantage is precisely omnichannel. The new platform means we will be able to retain our customer focus and holistic view of the customer journey while at the same time gaining a more flexible solution. The aim is to enable a more iterative development that means we can present new functions that make things simpler for our customers, more quickly."
One key factor in the decision to upgrade the solution is the performance challenges users experience with the current platform. The current solution is simply seen as not scalable enough for Lindex's growing needs.
"Black Friday is the ultimate stress test and demands far too much preparatory work today. There are limitations when it comes to what campaigns we can develop, and we need to test literally everything to ensure that the platform can handle the pressure. To cope with our continuing growth and ambition to reach out digitally on more markets, we need a platform that is both more reliable and more scalable," Sörstedt explains.
Best-of-breed gives flexibility but requires knowledge
Instead of choosing an integrated total solution for its e-commerce, Lindex has actively decided to use the Litium e-commerce platform headless, that is to say, combined with other suppliers via web technology.
"New entrants within e-commerce have the advantage of being able to start from scratch and launch when they have a finalized solution in place. We are aiming to gradually replace and update the different parts that are in operation instead, to have as little disruption to the business as possible. It's a bit like re-building a car as we drive. Choosing a headless strategy gives us greater flexibility and at the same time, enables us to draw on the expert knowledge and creativity of several companies."
Inhouse IT organization delivers value for money
One contributory factor behind daring to adopt a headless strategy full on is the extensive internal know-how and experience of doing business on the internet. The Lindex IT department consists of a relatively large team with inhouse developers and testers, which means overall control of the e-commerce solution can be maintained internally. Instead of adopting a cloud solution like many other companies, Lindex has also chosen to go for an on-premise solution and take responsibility for running the total solution itself.
"I can almost stick my neck out and say we have the world's best IT department, a team that possesses both technical know-how and solid business sense, and above all an understanding of what creates customer value. This is important bearing in mind the new investment must be able to pay for itself. Being able to demonstrate value for money is important for us, both in the Lindex offer to customers and how we choose our business partners," Sörstedt says.