Fast and flexible for growth
Built for supporting fast growing companies. Easy to launch new markets or set up a new store under another brand. Advanced support for managing simultaneous campaigns and discount types in different channels and markets. All built on a modern tech stack with full flexility to build, create and adapt to your needs with a business model built for scale. We call it limitless commerce.
Fast
Manage high volume and peaks. Short time to market for new channels and regions.
We give you speed
Manage high volume peaks
Cloud based and Litium CDN (powered by Fastly), that give you a fast site​. A fast site is also a pre-requisite for better Google rankings​.

Manage very high load of visitors during peak periods and intense campaigns and still provides fast response time​
Short time to market
With Litium Accelerator, you get shorter implementation timelines​

With our globalization support you can quickly launch in a new market or channel​
Flexible
API framework and ready-built connectors for a unique customer experience, better support and increased conversions.
Build what is best for you
Create unique CX
100% flexible storefront to build unique customer experiences

​. With Litium you can

run completely headless

​.

Full support for building content pages, campaign sites, customer journeys, digital product

catalogues, blogs, and more.

Freedom to build fully localized solution in each market with the locally preferred payment provider and payment methods.
Easy integrations and many ready-built connections
API framework and ready built connectors that provide integration with best of breed solutions and ERP solutions
Grow your business
New business models. The flexibility of the platforms provides the freedom to be more creative and creating new offerings/services and/or testing new business models
Growth
Grow fast into new markets, new channels and with new products – without limits.
Supporting growth
Extremely easy to launch in new markets and to set up a new store under another brand.
International sales
Reach new customers with omnichannel support anywhere in the world​

Globalization framework – native multilingual support, multiple currencies, taxes, etc
Campaigns
Advanced

support for managing simultaneous campaigns and discount types in different channels

and markets
Support for quicker conversion, easy checkout and higher AOV
Product recommendations – promote bestsellers by product category or same as others who bought

​ the product

Upsell and cross sell for related products

​

Ability to configure the checkout (payment providers, payment options and logistics

providers) for each local market preference to increase conversion
New headless architecture increases flexibility in Litium Commerce Cloud
Now Litium is introducing a new technical architecture for headless e-commerce in Litium Commerce Cloud that makes customers even faster and more flexible. The headless solution increases the flexibility and scalability of the service as well as the additional possibilities for smoother development of the customers' e-commerce solutions.
"Litium Commerce Cloud is today one of the most flexible e-commerce platforms on the market, built on the latest technology with Microsoft .NET 6 and a complete tech stack with CDN via Fastly and search built on Elasticsearch for optimal performance. The completion with a headless architecture built on the latest frontend technologies such as React and Next.JS, gives our customers and partners every opportunity to succeed in their business", says Ludvig Block, CPO at Litium.
Business model adapted for scale
We love to see our customers succeed. To win in online business it takes speed and scalability in all dimensions. That is why we offer a growth based business model which follow seasonality and scales automatically. As a customer you only pay for usage and sales generated through the platform.
We also offer a customer success program where we work in close cooperation with our customers long term to maximize growth by optimizing the use of our platform. We focus on improvement both within technical and business-related areas, together with training and knowledge sessions.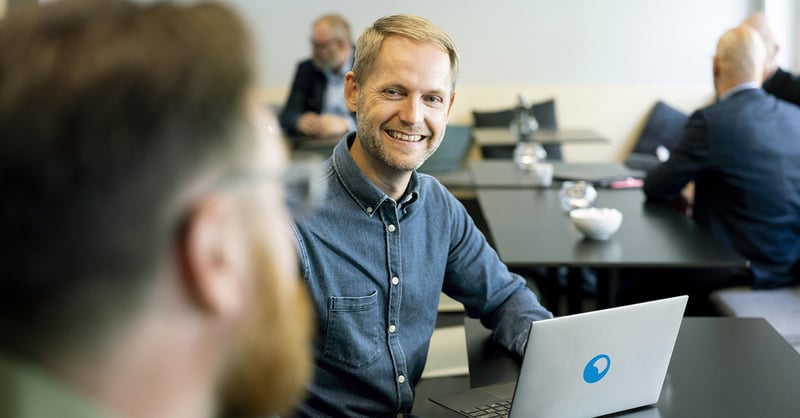 Low cost and operational efficiency
Litium offer value for money with short implementation timelines and low TCO (Total cost of ownership). A storefront Accelerator for best practices and faster implementation and prebuilt integrations. Litium customers appreciate that Litium is easy to use and easy to get up to speed with. With built in workflows and a simplicity to use the system you get an operational efficiency that allows also for small teams to manage. With Litium it is easy and cost-effective to quickly launch a new store or in a new market.
B2B, B2C and B2B2C
Litium Commerce Cloud fit both B2C and B2B and B2B2C. If you are working business to business Litium have great s
upport for managing pricelists, complex ordering and product configurations, customer specific assortments, spare parts & consumables, repetitive orders, and more. Read more about B2B specific here.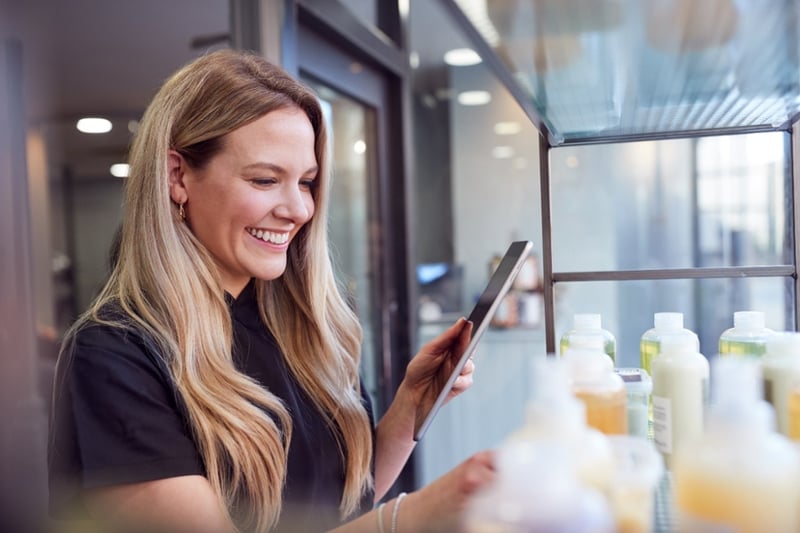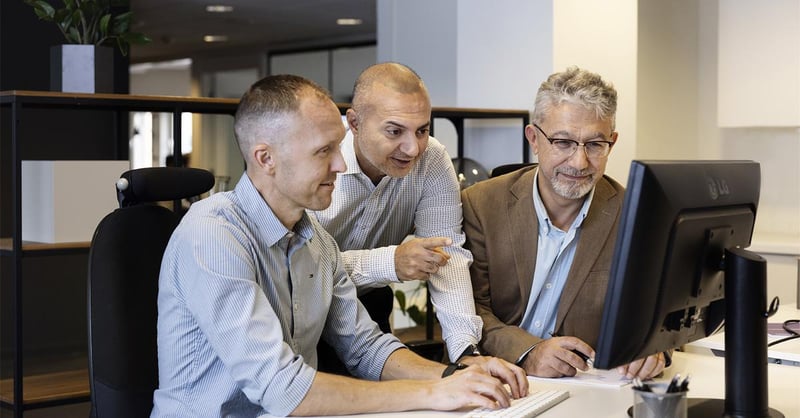 Modern tech stack
Litium is built on the latest technology, with a modern easy to use administrative interface. Rely on a scalable tech stack of carefully selected technologies to build your business. Create unique search solutions with Litium Search powered by Elasticsearch. Get a powerful site speed with the included Litium CDN, powered by Fastly. Litium search is also included in the platform. Scale dynamically with maintained performance in our cloud. Our uptime is 99,9%. In short, you never have to worry managing high loads of orders and visitors.
Large partner network
Greatness comes from focus, on what you do best. We enable the technology and growth tools for your success, and believe in best-of-breed where our Partners fulfill solutions that makes you outperform the competition. Our technology partners add excellence in everything from payments to personalization, and our solution partners are Litium certified professionals, experts in digital commerce. We want to help our customers prepare for the future and stay one step ahead in the ever evolving and complex business landscape of today. So, bring your ideas to the table and let's discuss what we can do for you. We have a base of leading partners in our portfolio to help you figure out where you should start.
I can honestly say that Litium, as a platform, is one of the best on the market when it comes to the user experience. Easy to understand, visual and flexible with a simple interface.

– Daniella Johansson, E-commerce Manager, Didriksons

Simplicity and flexibility is something you look for as an e-tailer. We are never limited thanks to the flexibility Litium gives us. Not all platforms can offer that.

– Mattias Jacobsson, CEO, Jollyroom

We were interested in future-proofing our e-commerce in order to stay at the forefront of development for B2B e-commerce and to satisfy our customers' growing demand to make their purchases from their computer or smartphone

– Simon Molneryd, E-commerce Manager, Tingstad

The way we do business today, in over 100 different countries, places demands on the digital platform. The fact that we are active within so many different geographic markets creates a complex structure—we need to handle a variety of currencies, different languages, different brands and different inventory. Thanks largely to the support for all product variants and the fact that a ready-made PIM system is integrated in Litium, we were able to get a solution on track significantly faster than we had planned. Instead of having a time-to-market period lasting several months as we planned, we got our first website up in a few weeks.

– Erik Blomberg, CEO and owner of Eleiko Group AB
Frequently asked questions
We know you have a lot of questions when choosing your platform. Here we have collected some of the most common questions we get.
Yes, Litium's flexible architecture allows you to choose for yourself whether you want to run headless or integrated PIM and CMS. Litium Commerce Cloud is today one of the most flexible e-commerce platforms on the market, built on the latest technology with Microsoft .NET 6 and a complete tech stack with CDN via Fastly and search built on Elasticsearch for optimal performance. We offer the freedom to choose
Litium have more than 200 customers working B2B, B2C and B2B2C. Our platform works well for and is used by leading companies selling all over the globe. Some examples are Revolutionrace (D2C), Jollyroom (e-tail), Lindex (retail), Gudrun Sjödén, Houdini (Consumer brand), Tingstad (wholesale) and Addtech (Manufacturing). And many many more.
Yes we are and we aim to be even more over time.
Litium offers a growth based business model that is adapted for scale. Meaning you pay for usage and that it scales up automatically. Litium offer a low TCO (total cost of ownership). Please contact us to find out more what this would look like for you. curious@litium.com
Litium offer a low TCO. Look at the total cost when investing in a platform, not only the initial cost. With Litium you get low operating costs with a growth based business model where you only pay for usage and sales generated through the platform . Contact us to find out more.
The latest version of Litium is 8.
Are you interested in our platform?