More and more manufacturers and brands sell directly to the end customer, a trend that accelerates not least in tough times and is driven both by efficiency and the importance of a good customer relationship.
With the help of digitalization, retail has long used e-commerce to reach and meet consumers. In recent years, even more traditional B2B companies have understood the importance of building a stronger relationship with customers, gaining control over their customer data and strengthening the value of their brands. According to Peder Holmberg, Chief Commercial Officer at Litium, it is not least the effects of the pandemic that further lowered thresholds and caused B2B companies to invest in digital channels to reach their end customers.
The drive to digitize has grown significantly in virtually all industries where companies place importance on their brands. Early on were manufacturing companies in clothing and fashion, which were followed by, for example, furniture, kitchen and bathroom manufacturers. Now manufacturers in industrial components and building materials are also quickly following. The fact that a recession is on the way means that we see that more and more actors are looking for new ways to both make their work more efficient and to build relationships with end customers, he says.
Security in financial instability
In order to build greater trust with your customer group, you need greater control over how customers experience your brand and products. Processing the end customer directly through digital channels also creates the opportunity to better communicate with and understand the end users, while at the same time increasing the end customer's security regarding quality, authenticity and relationship. In economically unstable times, customers prioritize companies that instill this security.
Litium is a cloud-based e-commerce platform that helps companies in B2B and B2C create market-leading customer experiences, strengthen customer relationships and accelerate their sales in new channels and in new markets. According to Holmberg, an own digital commerce (e-commerce) can be used to quickly test interest in a new product, to investigate customer behavior and demand and to create new revenue streams, which applies to both consumer business and, for example, the manufacturing industry.
It's about efficiency
A channel directly to the end customer is thus not only about driving sales, but about streamlining one's entire business. Holmberg believes that a common misconception is that this would disadvantage or cannibalize business for the retailer - the fact is that an own direct channel to the customer is rather a complement to traditional channels.
- It is not primarily a matter of bypassing their dealer ranks, on the contrary, the dealer is also strengthened by manufacturers and product owners taking responsibility for the relationship with their end customers.
Contact us to know more and read more about the digital journey at Didriksons. Saying that investing heavily in digital commerce business, helped them quadrupled numbers y/y.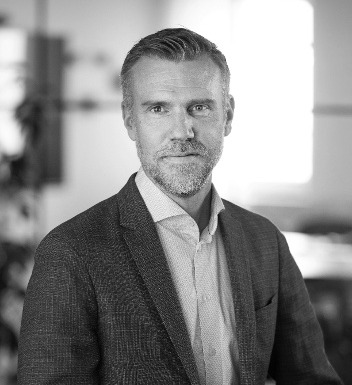 Peder Holmberg, CCO, Litium