Daniel Hultgren's interest in technology was sparked at a young age. One of his early memories is when he curiously disassembles the family's washing machine to understand how it worked. This curiosity remains today, though now as operational manager at Litium. We talked to Daniel to get a clear understanding of who he is, what drives him, and what his thoughts are about Litium's future development.
Hi Daniel, we're curious about who you are. Can you tell us about yourself?
Ha! Ha! Of course! I am a guy from Jönköping with a passion for technology and thrive best at the intersection of technology and business. In that zone, I get the opportunity to do what I like best- to solve problems. Ever since I was little, I have enjoyed identifying problems and then methodically working out a way to solve them. I love the feeling that arises when you identify the main problem and then find a solution. It gives me the energy and satisfaction that can perhaps be compared to the feeling that a salesperson gets when landing a big deal.
How did you end up at Litium and what has your journey been like?
It all really started with a tip from a friend. I started working as a support technician at Litium eleven years ago and have not tired of it yet. For the past nine years, I have been CIO at Litium and responsible for Cloud and Support. I really think that Litium is a fantastic company where there are great opportunities, for those willing to get involved and take responsibility.
When I started in the company, I had no concrete plans to move to a leadership position. However, I am a person who says what I think and is not afraid to come up with suggestions and views on how things can be done in a better way. This fits in with Litium's corporate culture, where all employees are encouraged to contribute and develop the company together. My attitude of constantly working to solve problems fits in at Litium. Therefore, I have always been able to continue to further my career within the company.
Litium continues to grow and develop. How have you managed to keep that culture in the company?
Even though we have grown to over 30 employees, we have maintained a close-knit family feeling that characterizes our culture. We care about both employees and management and are careful to pay attention to and reward good work efforts. It is important that you, as an employee, feel that you get something in return when you invest your time and effort. People who are honest, dedicated and put the team before the individual thrive here. There is authentic support from the entire company. That is why it is very important that we have good leadership. We are not looking for managers who point out and talk about how things should be done, but rather leaders who sink their teeth into the problem themselves and are involved in developing the solution.
Litium is known to stay at the forefront of technology. Do you have anything exciting going on?
Plenty! The development in our industry is going extremely fast. To stay in the forefront, it is important to know why you do things and not just jump into new technology trends. We always ask ourselves how our customers and partners will benefit from the technology. We, therefore, put a lot of energy into analyzing trends to make informed decisions about our paths.
With that said, we are currently in an exciting phase where we are moving from traditional operations to working with container technology. This makes our development work more efficient so that we can launch more quickly new functions and capabilities to our customers.
Can you tell us more about your role as COO?
Simply put, I am operationally responsible for the entire customer's life cycle here with us at Litium. That is, everything from operations, support, and partner support to the customer relationship. In essence, this means that our new business area, Customer Excellence, will ensure that Litium is constantly evolving with our customers and helping them succeed in their business.
In our new business area that I lead, there are teams that help our customers succeed. In addition to support and operations, we have those who work with Customer Success, i.e. finding ways to solve the customer's challenges with the help of our services and ensuring that they continuously receive tips and advice on how they can take the next step. We also have what we call Expert Services. This is a team that primarily helps our partners with implementation projects and training so that they can offer tailor-made solutions to their customers.
We notice that by gathering all the functions that work with technology, customer value, and support, we become even better at offering our customers, suppliers, and partners, maximum support through the entire customer process.
Last question. What do you do when you are not solving work-related problems?
My free time also includes some technology. It can be anything from building a new front porch to upgrading our home with smart technology. But the common interest we share in my family is our camper.
Every spring we look forward to driving off in our camper to explore new places. Our dream is to drive around Europe without any restrictions, in the form of pandemics or war. Our current plans include trips to Scotland and France, where we have relatives. Last year we probably drove 2500 kilometers, in Sweden alone. We love the freedom of being able to stop and experience places along the road and then continue driving when we feel like it.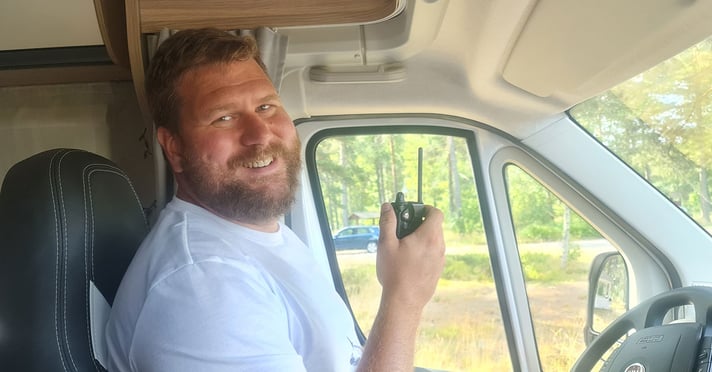 In case you want to get in touch with Daniel you can reach out at Daniel.hultgren@litium.com